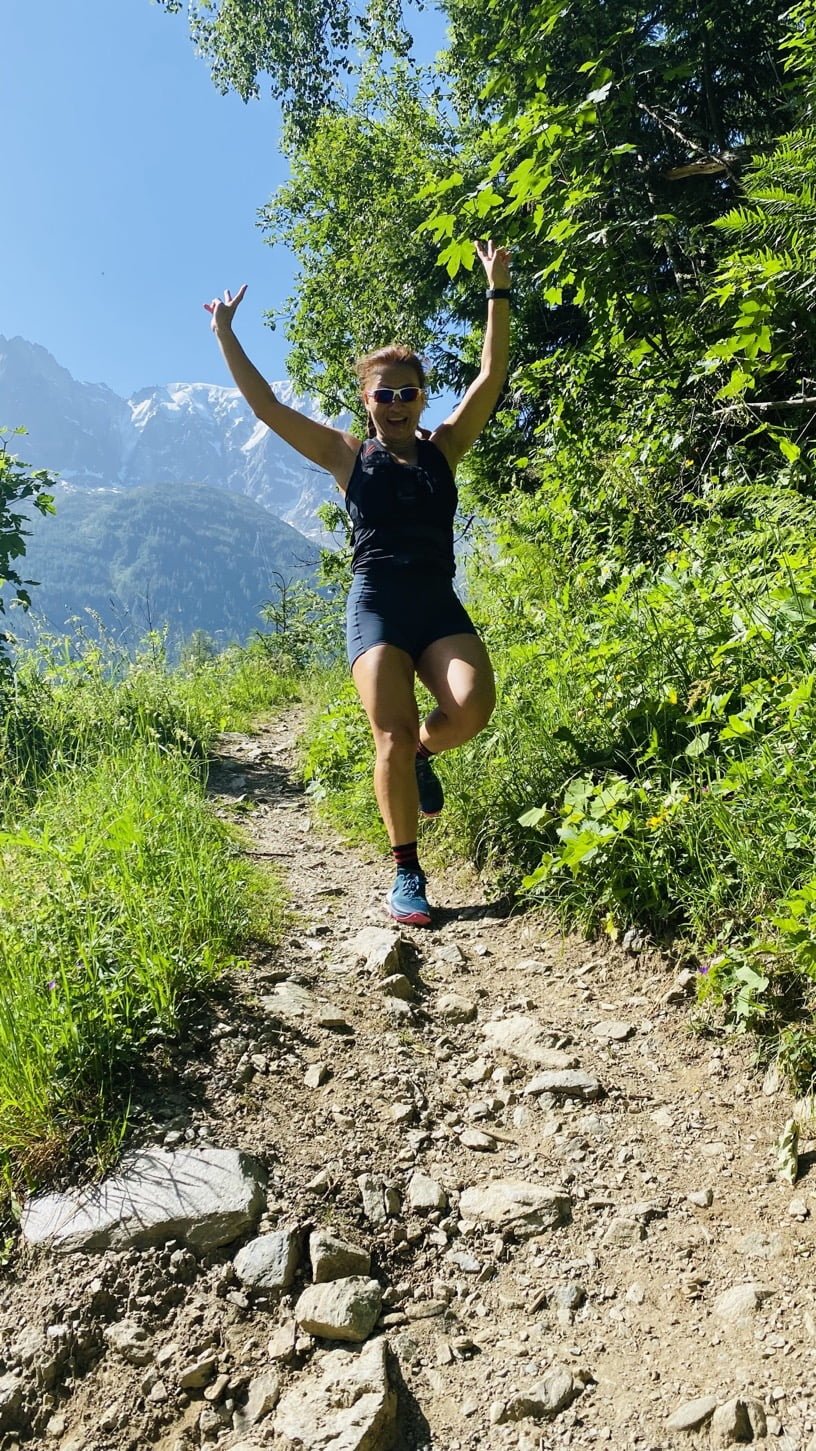 RUNNING & YOGA/INTRO TO ALPS 3 – JUNE 2022
"Wow! if you are looking for an inclusive, fun packed introduction to trail running in the alps then these are the guys to go for. They make you feel comfortable, included for the entire trip. The service is like nothing I have experienced before, they are communicative before the trip, extremely well organised and want you to have an amazing time. During the trip (I did yoga and running in the Alps) the trails were perfect and well guided, Simon and Karin know heaps of interesting facts about the area and the local produce that you sample at the check points. The yoga was led by a fabulous instructor who makes you feel so comfortable and relaxed. The hotel was gorgeous and the atmosphere was brilliant. If I could give these guys 10 starts I would, and I will definitely be signing up to more run the wild events. HUGE thank you to the whole team and the beaut doggos Lottie and Bailey x" DANIELLE – 5* GOOGLE REVIEW
"Thanks so much Run the Wild. Not just for the holiday but also the recommendation to see Neil – after goodness knows how long feeling stuck I think I'm finally getting somewhere. Loved the trip and would definitely be interested in another!" ABI
"I went on Run the Wild's Running and Yoga in the Alps. Everything was super organised, from when I made the initial enquiry and then throughout the whole trip. Definitely would recommend." JENNY – 5* FACEBOOK REVIEW
"Such a wonderful day, thank you to you all for your fantastic organisation!" STEPHEN
"An absolutely fantastic weekend of mountain running with the wonderful @runthewilduk It was my first ever mountain adventure and I am totally in love! ⛰🏃‍♂️😍 20 miles over 2 days and over 3000ft of elevation gain, but that's not even half the story. I'm not gonna lie, I was a little scared about running on some of those narrow and technical mountain paths but @simonrunwild from Run the Wild is an amazing run leader. He has a way of making you feel totally at ease, confident and comfortable out there. I cannot thank him enough. He genuinely cares about all his runners and is there to make your adventure fun and fulfilling. He played a huge part in helping me to accomplish this mountain running dream. 💯 If you want a genuine "intro" to mountain running and the Alps, look these guys up, you will not be disappointed. Thank you also to @karinrunswild for hosting the best checkpoint ever! Wine, cheese, fruit, snacks on day one and the same again on day 2 but beer instead of wine. We ran and ate well out there! 🙌 It was also great fun meeting the other runners on this tour they were from all over the world, Singapore, Australia and the UK. It was awesome and inspiring to hear about their running adventures. Hopefully I'll get to meet some of them again in the future. 😊 l can't wait to get back out to France with Run the Wild again and also take part in their UK adventures. Thank you team @runthewilduk you totally rock! 🤟" RAJ – INSTAGRAM USER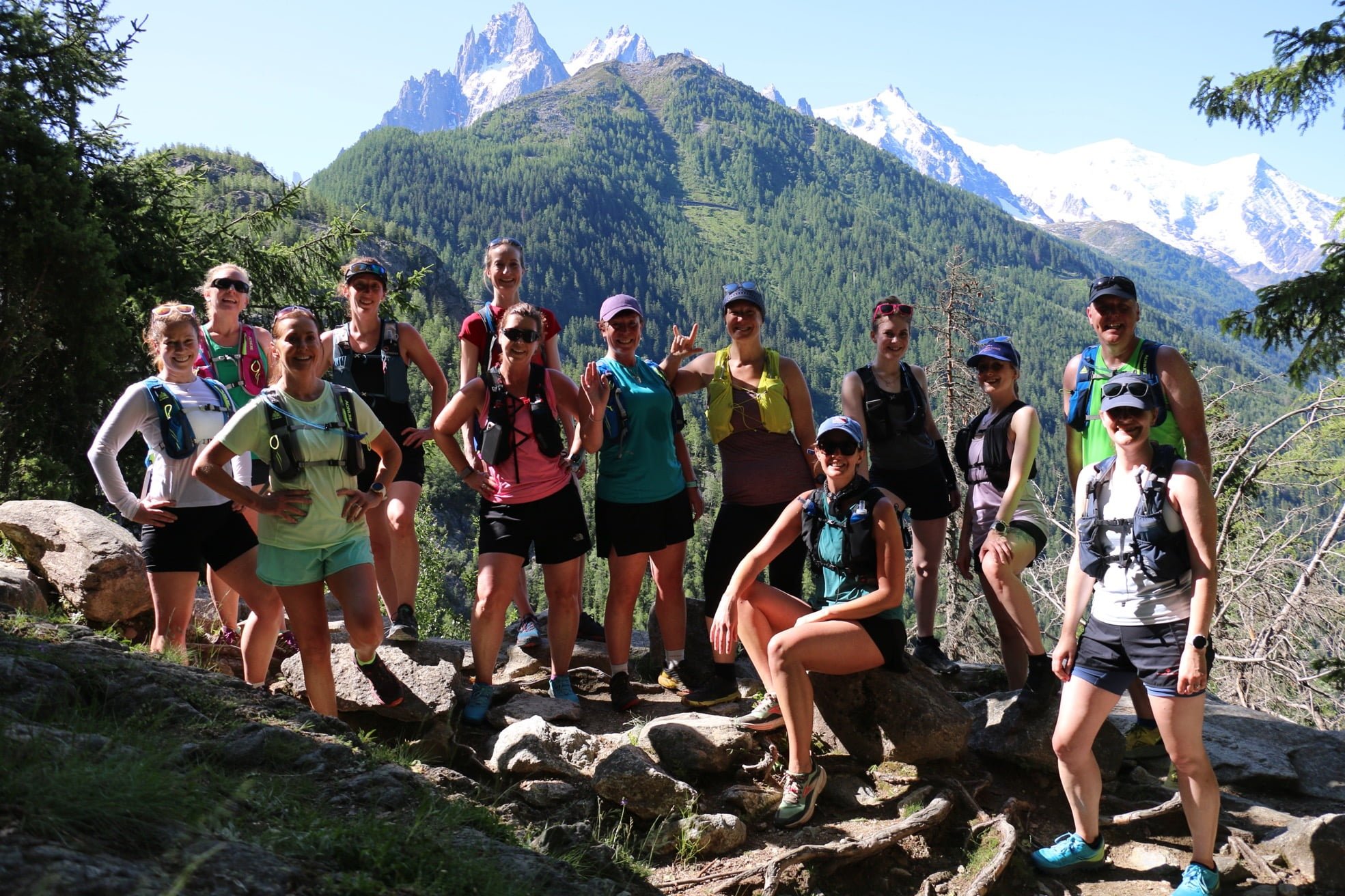 RUNNING & YOGA/INTRO TO ALPS 2 – JUNE 2022
"The trip was fantastic. From first enquiring to being there, you could tell the level of professionalism and pride in what you do." JOANNE
"Thank you so much for such a wonderful time in Chamonix – we loved it! I'm dreaming of being back in the mountains!" ANNA
"I totally loved it last weekend
" SOPHIE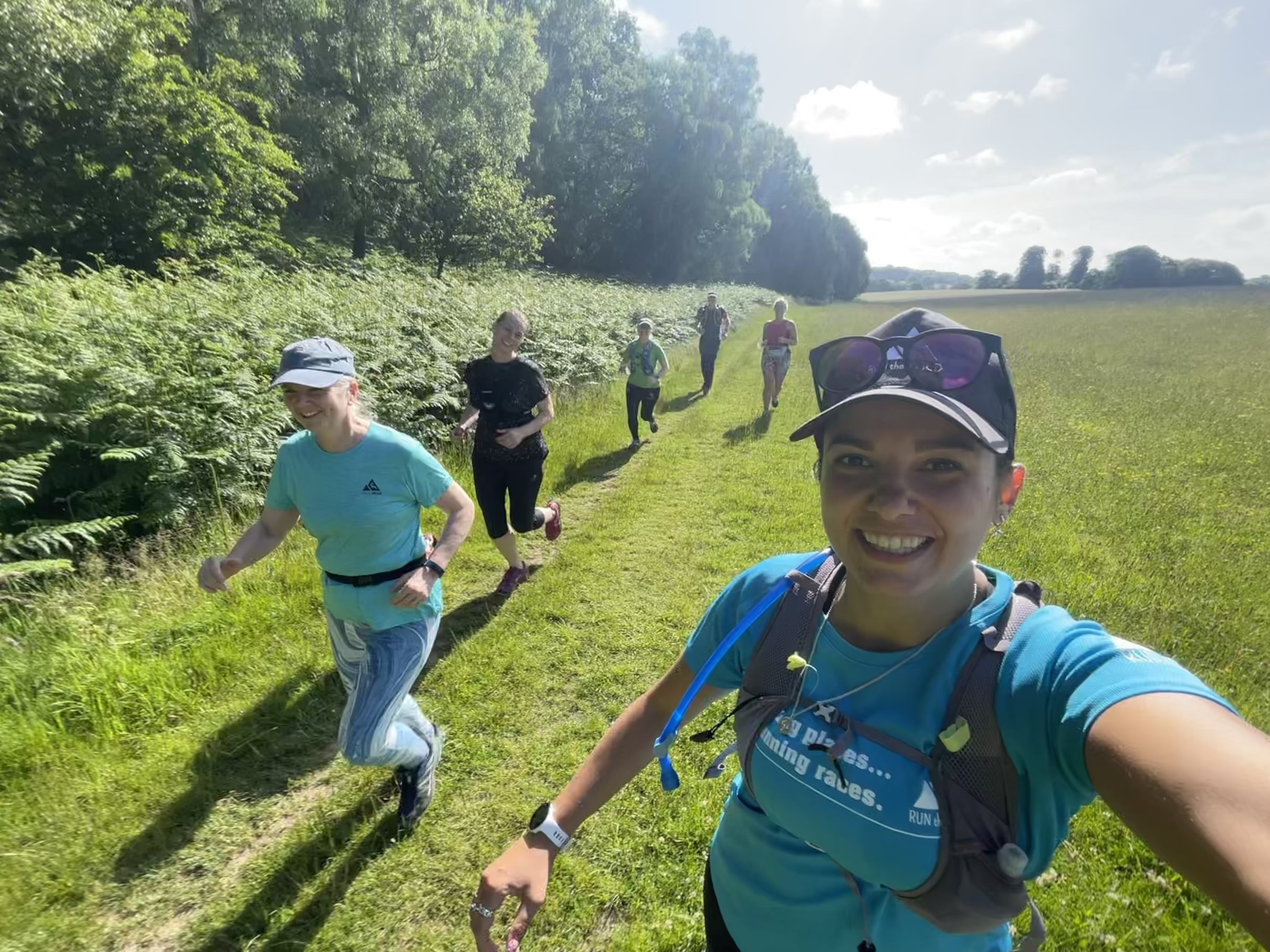 SUMMER 10KM – JUNE 2022
"My first run with you and enjoyed every moment, thank you!" LOUISE
"LOVED it! Thank you so much. Looking forward to the next one x" ALISON
"What a lovely morning! Thank you! Great run." STEVE
"Brilliant run, thanks very much! It was lovely to meet new people and a great guided run, cheers Nick!" JULIETTE
"I took part in my first group 10k at Ashridge last Sunday and have to say how much I enjoyed it. The group leader Harriet was great. It was a relaxed run and she was very aware of everyone's abilities and adapted accordingly, especially considering how warm it was. As a novice runner / it was a very enjoyable experience and enough to give me confidence to aim for the half marathon in October." DAVE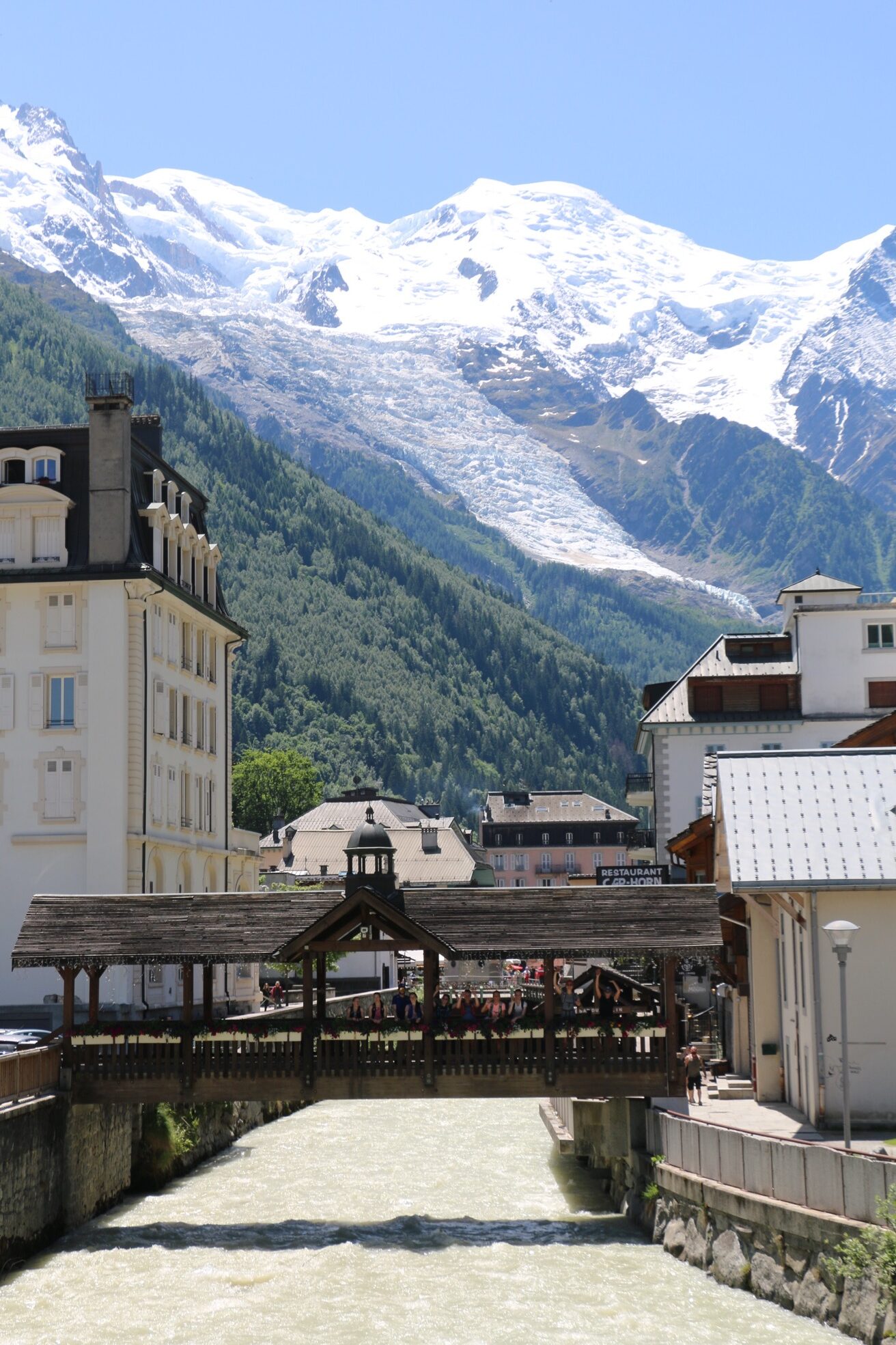 RUNNING & YOGA/INTRO TO ALPS 1 – JUNE 2022
"Run the Wild offers great running adventure trips! I joined one of their "Introduction to Trail Running & Yoga" weekend in Chamonix. Great weekend with lovely people and fun in a beautiful environment!" 5* GOOGLE REVIEW
– CAROLINE
"Many thanks again for organising such a fabulous weekend, I thoroughly enjoyed myself at all stages – this weekend is clearly how great memories are formed (including when we were in the hailstorm) and I'm already looking at the upcoming events in the Chilterns later in the summer!" ISABELLA
"Thank you RTW team for an amazing time, I absolutely loved it 
Hope to join you again for more adventures! x" NIKKI
"I had an absolutely fantastic time and felt the team were all super professional, gentle and really well organised. The routes were beautiful and the cheese and wine tasting was such a great touch. It felt great to be able to run in such a beautiful place without the stress of getting lost or taking risks with safety. I wouldn't think twice about doing something like this again with Run the Wild." LAURA
"Such a brilliant weekend!! Thanks so much! And lovely to meet you all – hopefully see some of you again in the chilterns! 
" HELEN
"Thank you so much for a great weekend .. lovely to meet everyone x" LEE-ANNE
"It was a fantastic weekend. Thank you so much. Hope everyone's legs are still working. x" SAM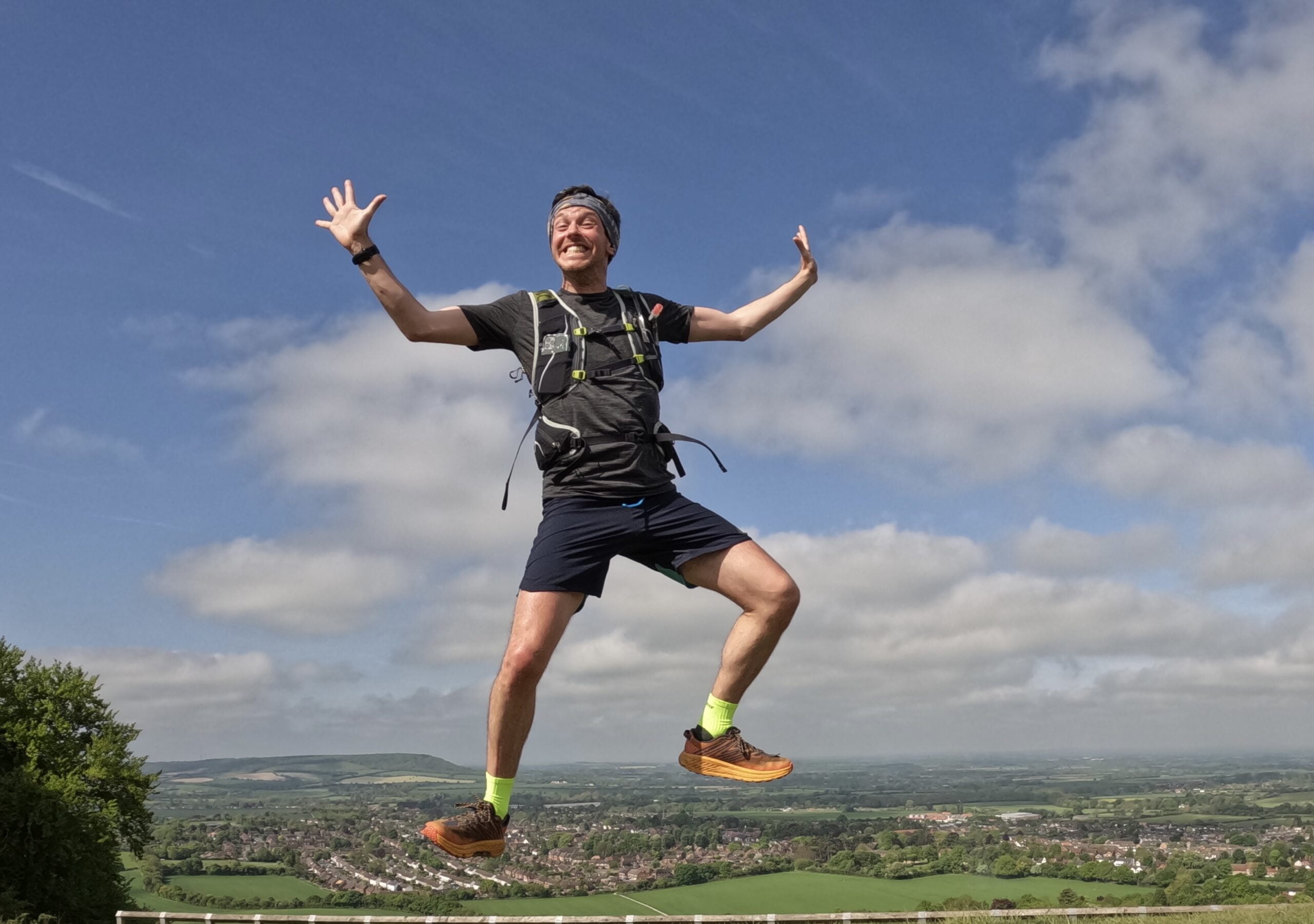 CHILTERNS HILLS CHALLENGE – MAY 2022
"This was my first Run the Wild experience and I loved it. I did the two day challenge – 30km per day – and it was brilliantly organised, fun, well-supported and super friendly. Pre-event comms are comprehensive and registration was slick (toilets at the start were a welcome addition!). The guides were friendly, interesting and knowledgeable – they judged the group pace well and I felt nicely challenged (but not struggling) on both days. The pub we stayed in was great! Clean, comfy rooms and delicious food. I would recommend this to anyone, and can't wait to sign up to my next RtW event." FINDARACE 5* REVIEW – CLAIRE
"Great friendly folks who organise a great selection of friendly trips!" FACEBOOK 5* REVIEW – MATT
"A big thank you to the Run The Wild Team for another awesome weekend of running! You really do set the bar for super efficient and organised trail running events, it all runs so smoothly and I know a lot of hard work goes on behind the scenes to make it all seamless. As a Run Leader back at my club I can really appreciate the time and dedication required for the whole team to come together and make things work. 
It's a relaxed environment with no pressure on pace, you can fully immerse yourself in nature and get chatting to those around you.
For me RTW allows me to enjoy the full freedom of trail running whilst learning more about my environment along with how to become a stronger trail runner! Learning facts about bluebells or how to help get rid of stitches and tips on how to run hills, the whole experience is just fantastic, it's relaxed, fun, engaging and I learn something new every time I attend an event. I can't wait to experience my first taste of running in the Alps in September! A big thanks to Simon, and all the team for a brilliant weekend!" BEN
"I just wanted to say what a fabulous weekend I had running with you and your amazing coaches. The catering was amazing, especially for me, due to my dietary requirements and the overnight accommodation was so unexpectedly lovely." LISA
"It was a great weekend with some really brilliant people! Many thanks for all the organising and just generally making a fun time!" MATT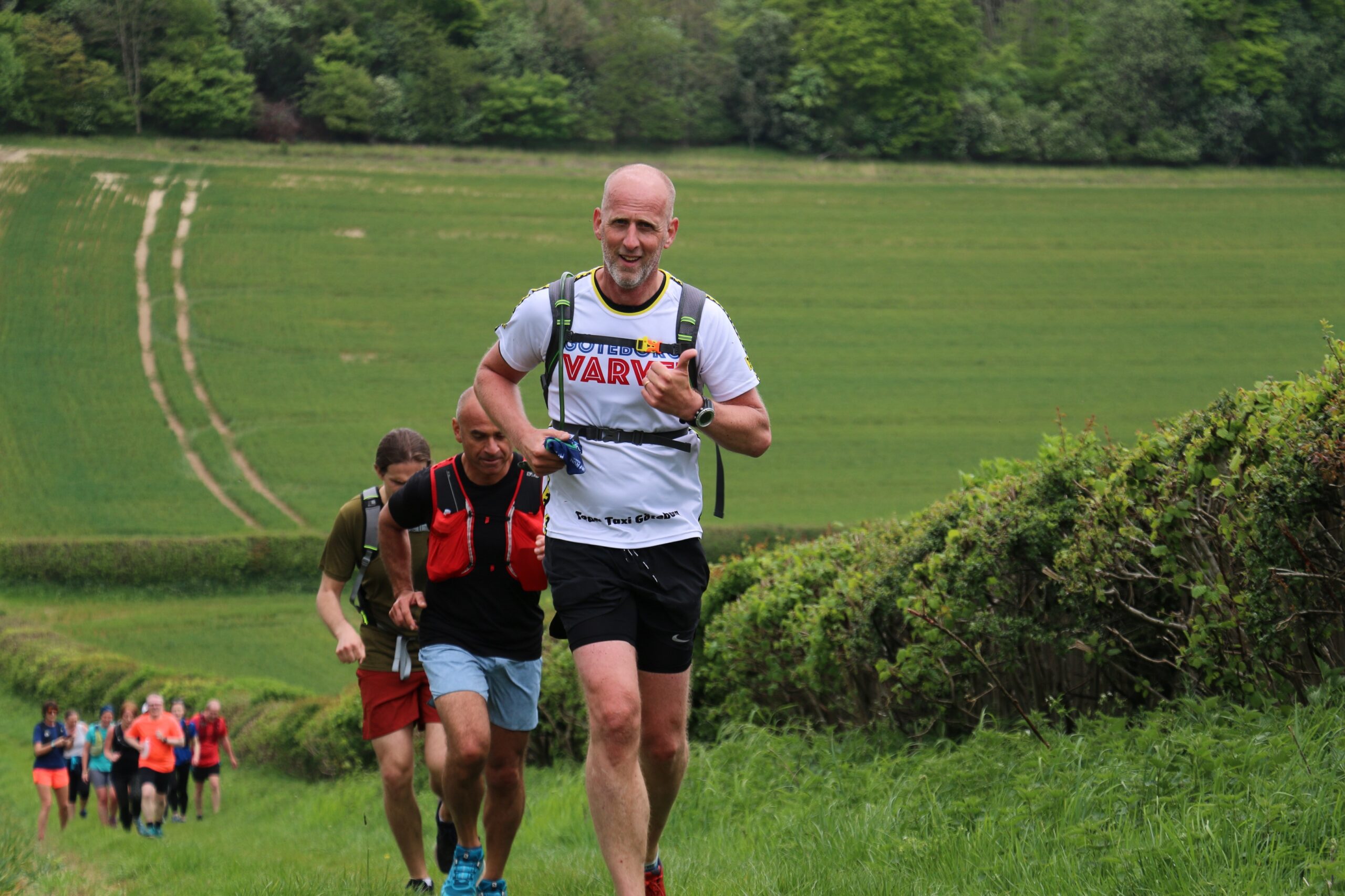 CHILTERNS 30KM – MAY 2022
"I wanted to thank you all. Today was challenging but great. Please thank Celine… Her positivity kept me going all the way when I hit the, 'Oh no, I just want this to be over' wall' :-)" HELENE
"Fantastic Run the Wild 30km Chilterns Challenge this weekend. The organisation from start to finish is superb. Information is timely and accurate and the run leaders/coaches go out of their way to support and motivate you on the excellent route. The checkpoints are awesome – yum! Highly recommended!" CATHERINE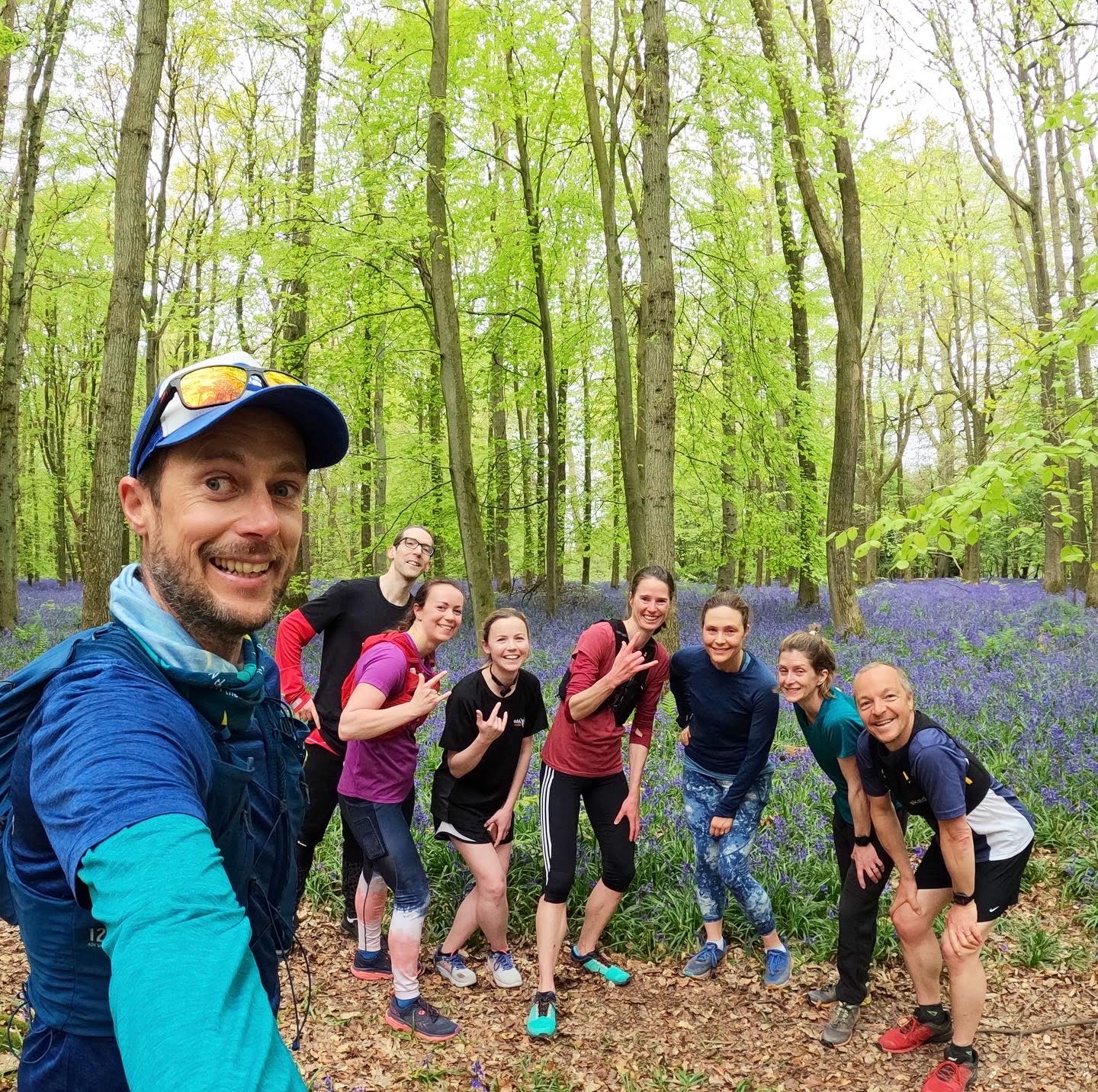 BLUEBELL 13KM – MAY 2022
"Had the most amazing time this morning. Never done an event with you before. This one was reasonable in price, very informative and had a great time meeting new people." Michelle
"Thank you. Thank you. A superb course of beautiful trees and breathtaking views of bluebells. However, the best things about this race were the other runners and our gentle, kind, witty, informative , quick guide, Adrian. We laughed and learnt stuff! Not bad for a Sunday morning run. I'll be back." 4.91* RACECHECK REVIEW, Jaye
"I've taken part in a couple of Run the Wild events and recommend them highly. Well organised, great run leaders and a fab vibe." 5* FACEBOOK REVEW, Mark
"Had just the best experience this morning – my aptly named daughter Bluebell and I loved it. Thanks to Katie and her husband for a great run. X" Emma
"As always an awesome run courtesy of
Run the Wild
. They are simply the best at what they do. The bluebells where amazing but what I most enjoy is being outside with likeminded people being guided by a highly professional and friendly team. Left on a high and eager to come back again. Thank you. 
" Emma
"Fantastic bluebell run thank you, great leader & a lovely group to run with really enjoyed it
" Amanda
"Really enjoyed this morning. It was our first 
Run the Wild
event . Really friendly and great run leader" Fiona
"Thank you so much for a lovely Saturday morning run in the sunshine seeing the beautiful Bluebells!" Nina
"Thankyou for a beautiful run today! We loved it 
" Caroline
"Thank you for a lovely fun run this morning. It's was my first run with "Run the wild" I will definitely sign up again." Denise
"Thank you for the most beautiful run this morning. It was a fantastic experience!" Cyndy
"I'll be signing up for another one, it was lovely
" Gemma
"Fab event! Thank you Celine and Harriet for leading us thru such a wonderful trail. Brilliant day 👍👏👏" Linda
RUN THE WILD HALF MARATHON – APRIL 2022
"This was my first trail half-marathon. Extremely friendly and welcoming team, especially Celine our guide who was so knowledgeable and inspiring!! Amazing scenery, good pace and will certainly recommend for first-timers and experienced trail runners. I'll be back!" 5* FINDARACE REVIEW
"Thank you very much for a fantastic, sunny day yesterday.  I loved the route you chose and the views were stunning. I really enjoyed meeting and chatting to all the interesting different people on the way. You don't get that with a race! Nick was an excellent guide with plenty of interesting facts about the local area and about trail running technique." Nicola
"Just wanted to say what a totally amazing time I had with you yesterday for the Tring Half. Celine was just so wonderful,  chatty (very), informative,  encouraging and most of all caring. I always run solo, so this was my first time in a group. I absolutely loved it (I was actually gutted the finish came so quickly). I felt the whole race, sorry run, was so well organised. It was by far the best I've been to. A welcoming, helpful team and a beautiful place with lovely facilities. Yesterday has given me so much confidence in my ability,  and Celine has made me believe I can cope with a full marathon. I shall be keeping an eye on your site for the first one available and can't wait to join you again." Debbie
"Great morning of run and chat – thank you so much for organising, encouraging, sharing and supporting – Sally- first half marathon in the bag 
" Sally
"Awesome day thank you so much, worth the journey from Birmingham. Will see you again soon 👍🏻" David
"Really enjoyed it, great event and will definitely be back!" Robert
"Thanks very much for today, really enjoyed it and very impressed with how well it was organised and the spirit of the event!" Kat
"MANY Thanks for organising the Chiltern half marathon, it was an awesome experience. Couldn't have made a better beginning to trail running. I was quite apprehensive before starting but the pace was good too and loved the trivia info on the way…" Nima
CHILTERNS TRAIL MARATHON – APRIL 2022
"Ran the Chilterns Trail Marathon recently and really enjoyed it. Was well organised and great to be in a small group of those with similar abilities. Well stocked checkpoints (cheese quesadillas in particular!) and a really knowledgable guide with lots of interesting local info as well as some good trail tips. The general ethos was a real winner for me and is summed up by the 'exploring places not running races' line. If you enjoy exploring new trails and have never tried a guided run I'd definitely recommend!" 5* FACEBOOK REVIEW
"One of the best day adventures I've had! I couldn't recommend this event enough. Fantastic organisation, excellent guiding throughout and fab hospitality at the checkpoints (catering for vegans too). Whilst this is a great challenge to test your trail running abilities, the team ensure you have the best experience throughout the day and will tailor the pace accordingly. Will definitely be signing up for more adventures 😎" 5* GOOGLE REVIEW
"The run on Saturday was brilliantly organised.  Len and Katie were so friendly and encouraging and what a feast you laid out for us at the checkpoint. I'm sure I'll be back soon!" Henrietta
"Great event! Was my first group marathon and was so much fun! Loved the camaraderie and learning a few interesting nature bits and running tips along the way!" Shelley
"Thank you so much for such an amazing event!!! This is my second year and absolutely love it!!
" Rosalba
"Thanks for a fantastic day and massive thanks to Phil for keeping us moving xx" Aine
"This was a very different kind of marathon. Not only was it on trails, it was a guided run rather than a race. We still got a medal at the end though!! We were in small groups based on pace and taken out by a guide. It was a perfect opportunity to do a long training run and explore some new trails without having to think about where to go.
We had a really fantastic group of runners made up of experienced ultra runners and some doing their first ever marathon. Our guide Celina was fantastic and kept everyone's morale up the whole way through. I think one of the best parts was the fantastic checkpoints stocked with every goody you could want including freshly made quesadillas 😋  I'll definitely do this event again."
INSTAGRAM USER
BERKO 10KM – MARCH 2022
"Did the 10km at the weekend – my first Run the Wild event. Really impressed – it was very well organised. I had a friendly and knowledgeable coach to guide us along a beautiful route (thanks Kat!). It was more relaxed than I'd expected – no one got left behind, ran at a comfortable pace and actually really enjoyed it, thanks guys! x" Facebook review
"Thanks for a great run yesterday – weather was very kind although it was rather wet underfoot in places. The non-competitive format, divided into groups with mentors for each one is great for the slower runners. We all benefitted from Phil's running tips during pauses in the run. Very friendly, not too many runners, very enjoyable." Chris
"Really lovely morning and well organised event – thanks
" Maria
"Thank you for a fabulous run. I was really nervous but everyone was brilliant and I loved it. Looking forward to my next trail run now." Jennifer
"Thank you, really enjoyed this event and would like to say a huge thank you to Kat who made it a fantastic experience." Jack
SPRINGTIME TRAILS 10KM – MARCH 2022
"I had a great time running around the Ashridge Estate while being guided and entertained. The muddy conditions provided plenty of opportunity for useful trail running guidance with entrants being sensibly streamed into groups matching their pace level. A fun morning out if you're looking for something more than a race." Damian
"Thanks for organising another brilliant morning. The mud bath was surprisingly enjoyable! See you again soon
" Ingrid
"Thank you for a great , fun, muddy run . We thoroughly enjoyed it. Thanks Lynda for guiding us
" Lory
"Thanks all, really enjoyed it 😊" Katy
"Such a great morning ! Loved my first ever trail run 🙌😃" Melissa
"
NAVIGATION ESSENTIALS – MARCH 2022
"Thank you so much for this morning, it was really great and enjoyable as always. Although i've used maps a lot I still feel I've learnt a lot and how to utilise different approaches in using them." Severine
INTRO TO TRAILS 10KM – FEBRUARY 2022
"Great run this morning, stunning scenery and excellent mud – lovely way to start the day!" John
"Absolutely loved it!!!!!!! 🌳🖤" Annie
"Thanks for an amazing trail this morning! I've just arrived home rejuvenated and excited to continue my day! Such great advice given, easy going group and some lovely connections made!" Anne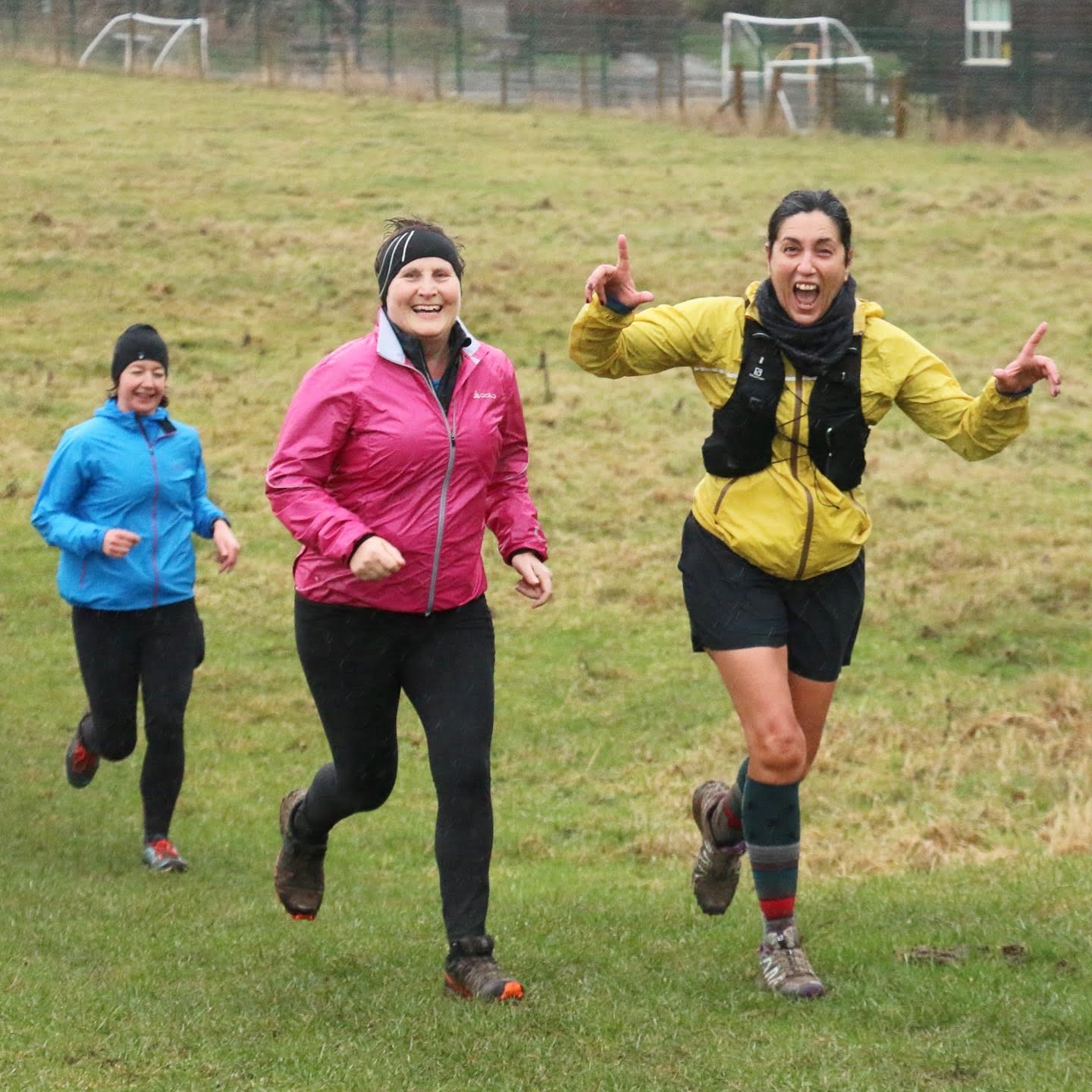 CHILTERNS WINTER 10KM – JANUARY 2022
"A well organised guided trail event. Suitable for all levels including beginners. The team are friendly, informative and all round great support and atmosphere.  Always a great experience with Run the Wild! 100% recommend!" Trina
"I just wanted to say that this morning was my first Run the Wild event and I really enjoyed it. I was in a lovely group of ladies led by Katie who was great – she was really knowledgeable about the area which I've never really explored. The rest of the Run the Wild team were also really welcoming!" Joanne
"V muddy, v wet, v undulating v great fun. Many thanks to Celine for leading our group so well." Mark
"What a great way to start a Saturday morning! Yes it was wet and muddy but what lovely people to run with! Thanks to Celine for her guidance, tips and local knowledge.
" Linda
"Fabulous morning trail running with you guys
Looking forward to spending more time with you this year 
" Doreen
"First trail run. First Run The Wild event. Brilliant. Thanks Simon and the team. Kat leading group 2 was fantastic. Loving the woolly hats. Will be back for more." Jonathan
"A fantastic way to start the day, had such great fun. Thank you all and thank you to Celine for leading us around! 😊" Karen
"Really great morning. Good to have someone join us on the run and point out techniques and interesting points about the area. Well done on laying on so much mud to make it even more fun. Will def book something again!" John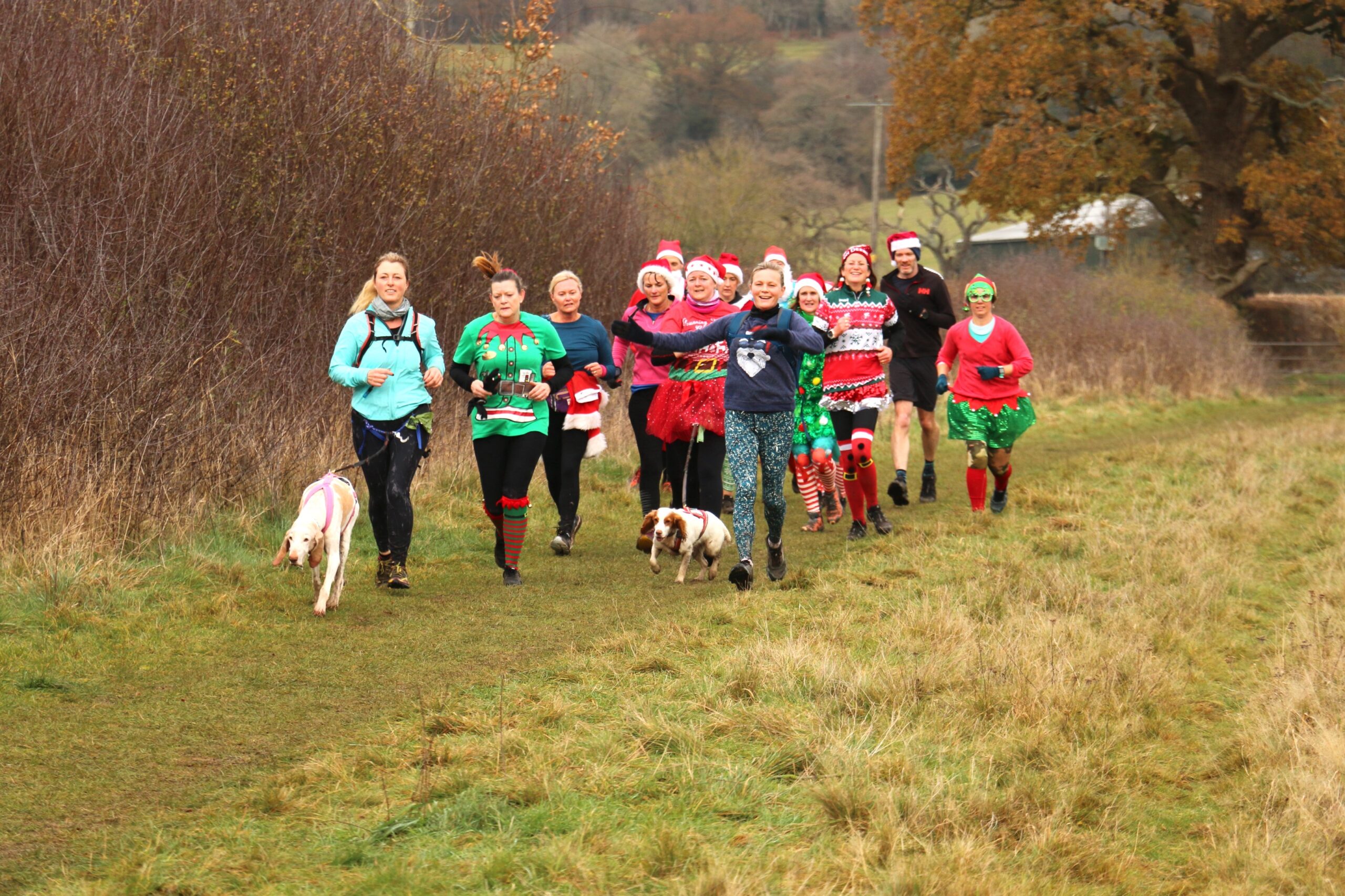 WILD CHRISTMAS CHARITY RUN – DECEMBER 2021
"Thoroughly enjoyed it. Thank you!" Sarah
"I just wanted to say thanks for organising such a fun Christmas run this morning! Our first Run the Wild event and it was great. I don't think everyone could have been more welcoming or such lovely people." Fiona
"Great fun! Thanks all!" Julia
"Awesome morning!
" Keith
"Everyone looked fantastic! Thank you all for your support!" Hospice of St Francis
"Loved it today ! Thank you. As professional, friendly and supportive as always!" Dave
"Brilliant fun and for an excellent cause. Thank you to our guide. 
" Dawn
WILD BOUNDARY TRAIL RUN – NOVEMBER 2021
"Thank you Phil and all the Team ! I loved my first run with you guys! Beautiful pictures
" Sabrina
"It was such a beautiful day for a long run 
, thoroughly enjoyed the company and the food and drinks at the checkpoint 
" Clara
"What an amazing time! Thank you so much!!!" Jessica
"It was so much fun, thank you so so much!!! ????????" Stefanie
"Brilliant day – thank you so much!" Katie
BREWERY TRAIL RUN – NOVEMBER 2021
"We came from the US for a trail run in the UK and it was AMAZING. The Run the Wild organisers were absolutely great and very helpful, all of the information was extremely clear and easy to follow (good directions to the event, great explanation of what was included, etc), and the guides were both hilarious and informative." Kyle
"Thank you again for organising this lovely event, I truly enjoyed it, specially the finale in the Brewery!" Justyna
"Thanks for today always enjoy running with you guys!" Kate
AUTUMN 10K – OCTOBER 2021
"Another brilliant event organised by these guys. My fourth event with Run The Wild. The leaders are all good company and knowledgeable of the area. We will be back again. Thank you Simon and crew
" Sue
"Such a fabulous day even though we got drenched & muddy, loved every moment, thanks for a well organised event & to Linda for making our day extra special xx" Karen
"Super fun! Thank so much! 
" Lily
"Great fun! Thanks again." Mary Ann
"Had a great time! 
See you again soon! 
" Ingrid
HALLOWEEN HASH – OCTOBER 2021
"Incredible team who are very supportive and make sure everyone enjoys themselves. Went on the Halloween Hash this year and it was brilliant." Steven
"Loved it today! Thank you 
" Sam
"Really enjoyed that ! Thanks guys x" Claire
NAVIGATION ESSENTIALS – OCTOBER 2021
"I did the navigation essential course this weekend and learnt so much! not only did we learn how to read and use a map but we also applied everything and practiced. Simon shared many handy tips …it was great! highly recommended! ..so are their running events btw" Caroline
"Just wanted to say a big thank you for an enjoyable and informative course." Ben
NAVIGATION INTERMEDIATE – OCTOBER 2021
"Brilliant navigation course with Simon over the weekend – adapted the course well to those there and the skills they had and wanted to work on whilst still covering all the promised content." Gerry
DISCOVER RUN THE WILD HALF – OCTOBER 2021
"Great run! Great arrangement! Highly recommend this for runners of all ability! Thanks Celine for guiding us all the way!" Tay
"Thank you to Mark and Simon for a seriously fun run! Definitely suitable for non-fast people too! Josie
"An awesome organised half marathon trail run. Great guides, awesome views, brilliant food on offer. Best way to start the Autumn running season. Thanks again to Simon and the rest of the team. Made it a fantastic well run event!" Krisan
INTERMEDIATE ALPS – SEPTEMBER 2021
"My fiancee and I did the 2021 intermediate 2 days in the Alps. It was fantastic, we couldn't recommend it highly enough. Simon and the team were so well organised and it meant that we only had to turn up and enjoy the running and the scenery. Will definitely be returning for another run the wild trip soon. Thanks again!" Sarah & Tom
SUNSET RUN – AUGUST 2021
"Had a brilliant time! Thank you to all the leaders. Already counting down to the Autumn 10K, can't wait!" Ingrid, August 2021
"Yet another awesome event. Thanks Simon and team." Chrissie, August 2021
TRAIL RUN FOR WOMEN – JULY 2021
"RunTheWild provides a professional yet friendly adventurous trail running events.The scenes are stunning. I bit it's more gorgeous when the sun is out!. I thoroughly enjoyed yesterday's trail run in Tring. The group's lead was chatty and mindful of everyone ability along the way. We spotted a couple of times for trail running tips and information about the local areas. Loved exploring trail running with RunTheWild!" Sada – July 2021
"Thanks for a great morning!" Lizzie – July 2021
"Really welcoming group and made the running experience so much fun. The run leader was very friendly and knowledgeable of the local area." Kim – July 2021
"Fab morning run, thank you, great company as always!" Doreen – July 2021
"It was great! Thank you to all the ladies who took part and the great guides!" Grace – July 2021
RUNNING & YOGA CHILTERNS – JULY 2021
"Thank you for a very enjoyable run and yoga experience last Saturday!" Kathleen, July 2021
"So pleased I could join at short notice. The yoga session after the run was amazing! Thank you for all the work that went into making the morning fun & enjoyable." Abhi, July 2021
"Thanks for a great morning loved the run & yoga combo & the friendly welcoming atmosphere. Top guiding as well!" Melanie, July 2021
"Thanks guys another great session and the yoga session was fantastic!" Eileen, July 2021
SUMMER 10K SERIES 2021
"Thank you Team RtW, I had a fantastic time. So friendly and well organised!" Neil, August 2021
"Thank you very much enjoyed again!" Gill, July 2021
"I had the brilliant experience of running some trails with the amazing Run the Wild. We ran a chatty paced 10k with a couple of stops to hear a little local history and to pick up some running tips If you fancy perfect trails, with no pressure, in good company, go check them out!" Alistair, June 2021
"That was fab! Thoroughly enjoyed it" Nadia, June 2021
"It was awesome! Thank you!" Claire, June 2021
"So enjoyable! And the early start was ideal on this warm day!!" Natasha, June 2021
"Great mornings run. Thanks so much – we loved it. Gorgeous route on a gorgeous day!" Lisa, June 2021
"I very much enjoyed my first Run the Wild run. Great route and distance for me looking forward to the next two!" Gill, June 2021
TRAIL FIT 2021
"Thanks for tonight's session guys I really enjoyed it!" Steven
"Another great session thanks guys!" Sandra
"It was a killer but I really loved that session! Well done everyone!" Caroline
"Was a fab session! Thank you!" Leonie
"Thank you so much for providing such an informed, fun and motivating series of sessions. I really enjoyed them and they have been a great catalyst for getting me back into the swing of training!" Emma
NAVIGATION ESSENTIALS – MAY 2021
"Conquered my fear of getting lost yesterday with RtW brilliant Navigation Essentials session. After many years of following others on walks and now believing I was way too old to learn new stuff – course leader Simon had faith and I'm now ready to be let loose with a map and lead! He was fantastic- explained clearly, lots of tips, techniques and practice, an interesting and fun morning! Lovely group, great location…now when's the next event?!" Jo
"Thanks Simon for a great session this morning and the summary email with useful signposting to apps and resources. Came away feeling much more confident that I wasn't as bumbling as I thought when it came to map reading and to know what to look out for and the importance of all the elements covered and combining them to make an accurate assessment of the route/location. Really looking forward to testing myself over the coming months." Emma
"Super 'Technical Series: Navigation Essentials' event today with Simon at Run the Wild. Getting lost on the car journey there confirmed it was the right course for us to take part in. Learnt lots, fab countryside and weather much kinder than forecast." Jenny
"Thank you Simon for a wonderful morning. It not only sharpened our existing skills it taught us many new tips too. Your engaging lesson was exceptional and we really enjoyed our wet and windy class." Lisa
CHILTERNS 30 – MAY 2021
"Thank you very much for organising the Chiltern 30 today. I had a great time. The pacing was perfect – challenging but steady. Mark was an excellent leader who really seems to get the best out of people. The organisation was superb and the COVID-19 measures entirely reasonable. I felt very safe and supported by your team throughout the event. I would certainly want to do this again and have already encouraged family members to join me!" Eui-Sik, May 2021
"Amazing day! My Dad and I loved it! Thanks to all the team for making it such a great experience!" Lauren, May 2021
"Fab day! Thanks @runthewilduk" Helen, May 2021
"Just wanted to let you know how much I enjoyed today's run. Everything was so well organised and friendly with no pressure to run any faster than we wanted to.  It was great fun and nice to meet everyone.  Tired now though!" Lynda, May 2021
"I would like to say thank you so much for the run today. It was so well organised (as always) & the check point was JUST RIGHT ON TIME! I can't say thank you enough for today! I look forward to doing another adventure with you!" Caroline, May 2021
"Thank you Simon & the Team at Run the Wild! This was a great trail run in great company!" Fred, May 2021
"Great route and Team! Thank you!" Louise, May 2021
"A fantastic run for Team Celine! Thank you so much for organising Run the Wild! X" Natasha, May 2021
SPRINGTIME TRAILS – MAY 2021
"Great run and super coaching from Simon." Mark – Springtime Runs, May 2021
"Loved the 8km this morning thank you! It was our first run the wild run and we'll definitely be booking again!" Emma – Springtime Runs, May 2021
"Lovely morning! Great fun! Thank you!" Nicola – Springtime Runs, May 2021
BERKO 10K – MAY 2021
"I thoroughly enjoyed the Berko trail 10k this morning, thank you so much! It all felt very safe and distanced. Karin was so helpful and told us lots of interesting fact about the area. I was at the back of my group but was made to feel fine about it and I was never left behind! Thanks again and I'll definitely do another event." Karin – Berko 10k, May 2021
"A great trail run. Lovely friendly event. I'll definitely be joining in with another of their events!" Alison – Berko 10k, May 2021
"What a brilliant morning. Fantastic operation, safe and well organised. Great little group with Phill as our guide…thank you!" Gill – Berko 10k, May 2021
"My first guided run with you guys and loved it! Learned lots to help me in my trail running, bring on the next event!" Oliver – Berko 10k, May 2021
"Thanks for having me guys. It was my first trail run in a group and I loved it!" Megan – Berko 10k, May 2021
"My first run with you. Great start to the weekend with a great group – thanks Kat!" Sally-Anne – Berko 10k, May 2021
BLUEBELL 13K – APRIL 2021
"Just finished the 2021 Bluebell 13k starting from Ashridge House.. beautiful run with a great Run the Wild leader Celine.. the events are always well organised and everyone is so friendly. I've been on several in the past year.. All abilities are catered for.. yet another success guys.. Go Team Celine!!" Liz – Bluebell 13k, April 2021
"Enjoyed my first run with you guys!" Patricia – Bluebell 13k, April 2021
"Had a fantastic time really enjoyed it, will definitely be back!" Natasha – Bluebell 13k, April 2021
"Thank you for a fab bluebell run. Thoroughly enjoyed our run with you guys this morning!" Emmanuelle – Bluebell 13k, April 2021
"Thank you for another great run today. Well organised and interesting. Thank you Karin x x" Sue – Bluebell 13k, April 2021
"Thanks for another great run this morning!" Andrew – Bluebell 13k, April 2021
"Thanks Run the Wild, superb bluebell trail run this morning! Good to be back out running with you and other like minded runners!" Charlotte – Bluebell 13k, April 2021
"Completed our first run the wild event at Ashridge this morning and we both thoroughly enjoyed it. Our leader Mark kept us entertained and informed throughout- even as we experienced a very unexpected chilly start. These events are for all levels and don't be put off by distance the runs are interesting and sociable so you're not focusing on how far you're running. By far the most relaxing run I've ever done. Thank you Mark and the team" Fran – Bluebell 13k, April 2021
DISCOVER RUN THE WILD HALF – APRIL 2021
"Our first trail 1/2 marathon. Very well organised. Very scenic route. Our group guide Celine was excellent and full of local knowledge. Everyone in our group was friendly and great people. Highly recommend a run with Run the Wild, for any runner." Rayhaan – Discover Run the Wild Half, April 2021
"Another awesome morning exploring the trails! Thank you!! See you again soon!" Ben – Discover Run the Wild Half, April 2021
"So much fun. Thank you!" Nicola – Discover Run the Wild Half, April 2021
"Thanks for another great run guys, really enjoyed it!" Andrew – Discover Run the Wild Half, April 2021
"My second event and just as well organised as the last. Celine was our guide, she was brilliant. See you all for the Bluebell Run in a few weeks!" Sue – Discover Run the Wild Half, April 2021
10K NIGHT RUN – APRIL 2021
"Such good fun! Thank you for a great event! Looking forward to the next adventure!" Leigh – 10k Night Run, April 2021
"I really enjoyed last night, so nice to be out in a group again. Thank you for a wonderful event and in particular a huge thank you to Karin for being such a great run leader and to my group!" Lindsay – 10k Night Run, April 2021
"Joined last night's Night Run from Berko Cricket Club. Great fun. Great instruction and useful information as we explored the dark areas around Berkhamsted. Lovely run and very well organised, including great C-19 care." Iain – 10k Night Run, April 2021
"Thank you to the team for a fantastic NIGHT RUN yesterday! A special thank you to Mark and Celine, for leading such a beautiful route and keeping us safe. Also, thanks for letting me try out the Petzl torch. It was really effective and comfortable; good to know." Colleen – 10k Night Run, April 2021
"We joined Run the Wild night trail guided run. From start to finish we were made to feel really welcome, the Covid protocols were excellent and our running guide was really great. A great run in the dark. I would highly recommend Run the Wild. Thanks guys!" Claire – 10k Night Run, April 2021
"Super friendly and well organised, you see a lot of return custom and a wide ranging customer base. Lots of choice of distances and event types. Overall very well run events." Chris – 10k Night Run, April 2021
CHILTERNS TRAIL MARATHON – APRIL 2021
"Brilliant event guys, loved the route, we had a fab group with lovely people, a fabulous run. Medal is fab too!" Bev – Chilterns Trail Marathon, April 2021
"Thank you to you and the team for a magic day. I thoroughly enjoyed! Sophie was great." Gavin – Chilterns Trail Marathon, April 2021
"The support and organisation today was truly fantastic, all of the leaders were so supportive and even though I was the last runner I didn't feel any less valued or an inconvenience in any way! Route was beautiful and the right level of tough to be challenging but not overwhelming." Chloe – Chilterns Trail Marathon, April 2021
"It was a lovely day on a lovely route, with a great crowd of people and Katie who led us." Jayne – Chilterns Trail Marathon, April 2021
"Thank you Run the Wild and especially Sophie for seeing me through to my first marathon distance! I look forward to joining you again. Another super event thank you." Matthew – Chilterns Trail Marathon, April 2021
"Had such a great time. Thanks again. Who can't love a stunning trail marathon with beautiful views, in good company, whilst learning a bit about the area… and even getting a coffee & a bag of mini cheddars at halfway!" George – Chilterns Trail Marathon, April 2021
"Achieved the goal of enjoying a marathon finally. Thanks to the whole team, and we'll done to everyone who ran!!" Seb – Chilterns Trail Marathon, April 2021
"Superb event.  Thank you all so much. Special thanks to Sophie who led the group I was in and could not have been better. Kudos to you all!" Matt – Chilterns Trail Marathon, April 2021
"Massive thank you to all the Run the Wild team and particularly Sophie, Simon and Karin for looking after my 16 year old son on his first ever marathon. The guided trail run around the Chilterns in a covid secure format was the perfect format and the support and encouragement provided throughout was second to none." David – Chilterns Trail Marathon, April 2021