HEAD TORCH BUYING GUIDE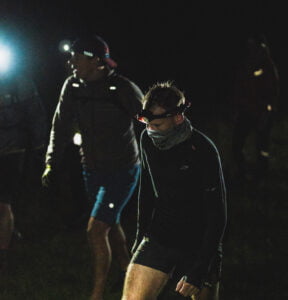 It's at this time of year, as Autumn leaves fall, we notice the days are getting shorter. However, just because it's dark outside, doesn't mean we have to confine ourselves to the indoors. Whether it's going for a hike in the hills on the weekend, trying to keep fit over the winter months or just taking the dog for a walk, a head torch is an essential piece of kit and with advances in technology we can now continue all those summer outdoor pursuits well into the depths of winter.
So what type of head torch is best for you? It's a question that pops up regularly on forums, running clubs and from our clients at Run the Wild. In the past we've looked at large spreadsheets of comparative torch data and then weighed up what provides the best compromise, but with so many new head torch brands on the market and with continual changes it's not helpful. At the end of the day, most people when looking to buy a head torch are interested in 4 aspects: brightness, battery life, weight and cost, and that hasn't changed over time. However, the answer really needs to be based on what activity you intend to use the head torch for. The highest price does not necessarily mean the best torch for you, nor does the brightest. There should also be other considerations considered such as comfort (including weight and weight distribution), durability and functionality. We will guide you on what to look for based on the type of activity, so you get what you need and don't get lost.
BRIGHTNESS
The faster you are moving the brighter the head torch you need. Brightness is measured in lumens (lm) and is the amount of visible light that the human eye can detect. Torches typically vary from 6lm to well over a 1000lm. To give you some reference points, the head light of a car is around 800lm and on full-beam around 1300lm. Unless you are travelling around at the speed of a car you won't need 1300lm! That's important to know since a brighter torch needs a corresponding bigger battery, since it drains the battery more quickly and without it wouldn't shine for very long. The balance of brightness and burn time (time torch shines) vs battery weight is a constant compromise.
Petzl developed a revolutionary solution to this problem with REACTIVE lighting. The torch senses the amount of light bouncing back and adjusts the brightness and focus required. Shining the torch down a winding trail, activates full brightness and focuses the beam into the distance but when checking a map, the focus softens and the light output reduced; increasing burn time and making it perfect for situations which require you to have both brightness and long burn times. Once you've tried it you'll never go back! Not having to manually change the brightness of your torch with cold, often gloved hands is a complete game changer!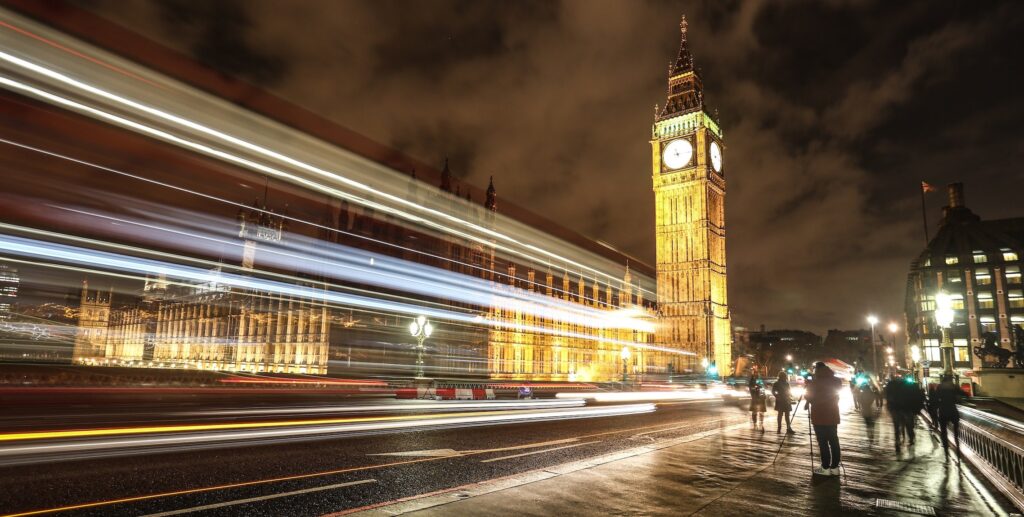 The other factor that will affect how much brightness you need in a torch, is the ambient light. Urban streets require significantly less bright torches to those of a technical rural trail. For most urban settings, being seen is just as important as being able to see. Therefore, investing in reflective clothing is just as important as a good torch, and also considering whether there is a rear red light.
Most torches have the ability to cycle through different brightness levels. Some also have a red-light function at the front which enables you to retain your night vision, great for camping. There are also some other considerations which you may not have thought about. What is the temperature (colour) of the light? Yellowy light is more sleep inducing, whereas whiter light similar to that of kitchen lighting is more likely to keep you awake.
Activity recommendations:
Reading in your tent – 20 lumens (yellow light to help you relax)
Hiking and Camping – 200 lumens
Urban Running – 200 lumens
Trail Running – 300 to 900 lumens
Mountain Running – 500 to 900 lumens (white light to keep you alert)
Cycling – 900 lumens+
BATTERY LIFE
How long you need your battery to last for will depend on your activity. How long the battery lasts will depend on the size of the battery and the brightness setting. All batteries will decay over time and they don't do this linearly, which means the brightness after several hours will be significantly lower than when you first switched it on. To reduce this decay and also to save the planet, always choose a rechargeable torch. The output will always be far superior, it's efficiency in the cold better and you will save yourself money in the long run. There are some situations, particularly if you are in a remote location for an extended period of time when you need to be able to use disposable batteries, some torches have interchangeable batteries such as the Petzl CORE.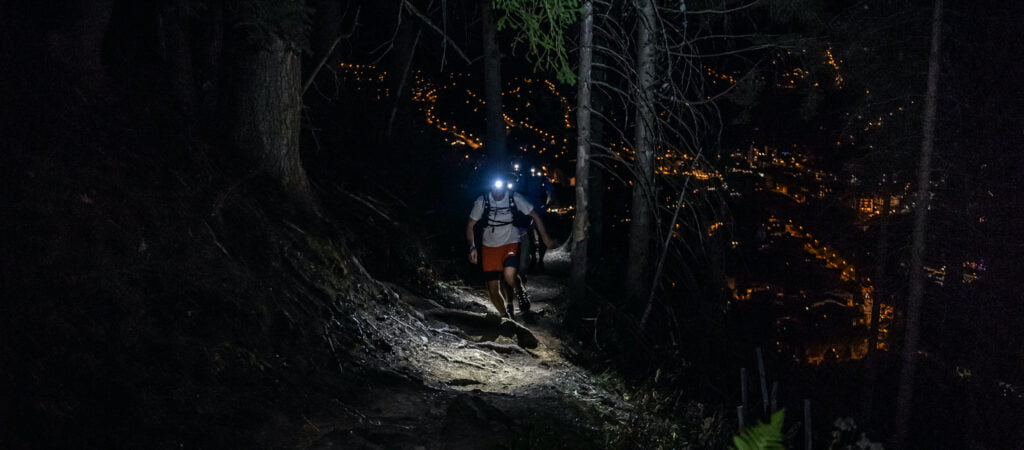 Realistically for almost all head torches with a battery that is of a functional size (i.e. not heavy) you will get around 2 hours at full brightness. The only way to get around this, is either to take spare batteries or reduce the brightness. The only other solution as already mentioned is REACTIVE lighting which means you only use the brightness you need in that moment, thereby saving battery life. The Petzl NAO+ comes with a smart phone app allowing you to program the duration you need the light for and it calculates resultant lumens.
Considering how long it takes to recharge your torch is also important. For bright torches, you will need to charge them for up to 9 hours at a time, for less bright torches up to an hour. It's extremely important that you only buy from reputable manufacturers. Lithium-ion batteries are highly volatile components and those made by non-approved companies have been known to explode. It's recommended you don't charge batteries unattended.
Remember if you don't need a super bright torch go for a less bright one as it will be lighter and quicker to recharge.
Typical battery requirements:
Reading in your tent: A month worth of reading a couple of hours a night
Camping and hiking: A few hours each day for up to a week
Urban and Trail Running: Up to 2 hours
Mountain Running: 6.5 hours+
DURABILITY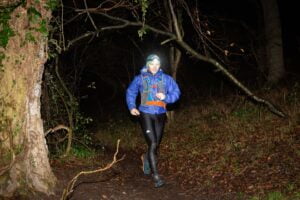 Head torches often get quite a beating! They get thrown in the bottom of a rucksack only to be used in horrendous rain and biting cold, yet are expected to be reliable. When you need a head torch, you really need it! Look for a decent IP (ingress protection) rating. It doesn't need to be able to withstand being underwater unless you plan to go scuba diving! However, it should be IPX4 rated which means it can cope with all the weather that gets thrown at it. Some reputable manufacturers such as Petzl make their equipment as PPE (personal protection equipment), therefore their testing is often far greater and the resulting torch more robust, that's because lives depend on it.
Connecting wires should remain intact, any elastic head bands remains elasticated, in all providing a solid build. Every head torch should also have a travel lock-function, so that it doesn't accidentally get switched on in your bag, which is not only a fire risk but also really annoying when you go to use it!
COMFORT
In 1973, Petzl had the ingenious idea to purchase some knicker elastic from a lingerie store to mount the first wearable head torch! Since then, the advances of torch and battery are huge, but the mounting principle has remained unchanged, keeping the torch attached securely and comfortably on your head.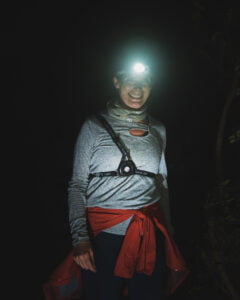 Head torches weighing much more than 200g are cumbersome and uncomfortable. Cyclists can mount a heavier battery for that brighter torch on the bike frame and are not bouncing up like a runner would be. However, if you are wearing the torch on your head you'll need it to be light for comfort and stability. Certain activities need more stability, like running vs hiking. A stable torch will allow to shake your head and the torch stay in position.
Thinking about how you want the weight distributed on the torch is also important. Is it all at the front? Or is at the front and back. For the first time since 1973, Petzl have launched a new wearable solution; a super light-weight frame AIRFIT providing an even distribution, and looking our for this format is good particularly if you are vulnerable to headaches. Some torches like the Petzl NAO+ also offer the ability of moving the battery to an inside a pocket to keep the batteries warm in extreme cold through the use of an extension cable. There are also a few designs which allow a torch to be worn on a waist belt, but we recommend wearing something under the head torch if wearing it on your head, like a buff, for added comfort.
Typical Requirements:
Back-up torch: <50g
Camping, Urban and Trail Running: <100g
Mountain Running: <200g + evenly distributed weight
BEAM PATTERN
​Head torches are usually designed in 3 ways: one very powerful LED; a couple of relatively powerful LEDs; or several less powerful ones. Powerful LEDs are more capable of providing not just a bright light but also a focussed beam, great for looking into the distance. For torches with two LEDs, one usually provides the focus for distance and the other a wide beam for close-up. The multiple LEDs are less capable of focussing on the distance but they don't need much housing and therefore are a lot lighter. What you need will depend on your activity. It's important that there are no dull spots in the beam pattern as our brains try to compensate for it which leads to tiredness, so often a mixed pattern is best (focussed and wide).
Focussed / Wide: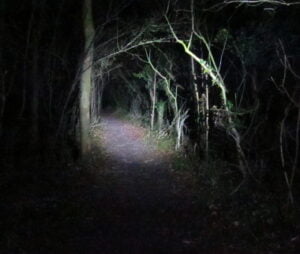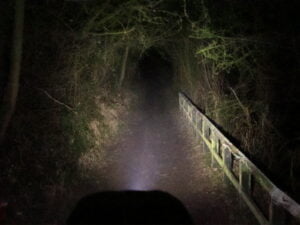 Typical Requirements:
Camping and Hiking: Wide Beam
Urban and Trail Running: Mixed Beam (Focus and Wide)
Mountain Running: Mixed Beam (Focus and Wide)
COST
This is the bottom line. However, I hope you have realised by now that the most expensive isn't always the best for your needs, nor is the brightest. You need to pick the torch that fits your activity and thereby tailoring that compromise on weight, brightness and battery life. A torch for reading in your tent can cost less than £20 and there is no reason to spend more. If you are hiking and camping, or urban running you can get a brilliant head torch for less than £60 which will do everything you need and last a long time, mine is now 15 years old and still going strong! However, if you are running on trails then investing in a brighter torch will mean you'll get to enjoy your activity comfortably plus be able to do it safely which is in of itself, invaluable. If you are heading for all night adventures, then moving towards the top end of the range will mean you can plan your adventures and never get caught in the dark.
CONCLUSION
Head torches don't need to break the bank. Your decision should be based on your activity. Finding a comfortable lightweight torch is just as important as one that is bright, as if it gives you a headache you won't want to wear it!
At the end of the day a torch is an investment, ensuring you enjoy staying active safely. Getting a torch that is reliable, easy to use and bright enough for your needs, means that you can forget you are even wearing it and just enjoy getting outdoors!
Typical Requirement Summary:
Urban Running, Camping and Hiking: Up to 200lm and lasts on a low setting for using multiple times during 1 week, quick to charge, simple to use, ideally with a red light setting, low cost.
Trail Running: At least 300lm up to 900lm; lasts around 2 hours on max setting, mixed beam (focus and wide), comfortable weight distribution.
Mountain Running: At least 500lm up to 900lm; lasts around 6 hours, mixed beam (focus and wide), comfortable weight distribution with easy replacement of spare batteries.​
Written by Simon James (International Mountain Leader and Mountain Running Guide), Run the Wild is affiliated with Petzl
Photos: David Altabev, Tom Aldcroft, Run the Wild